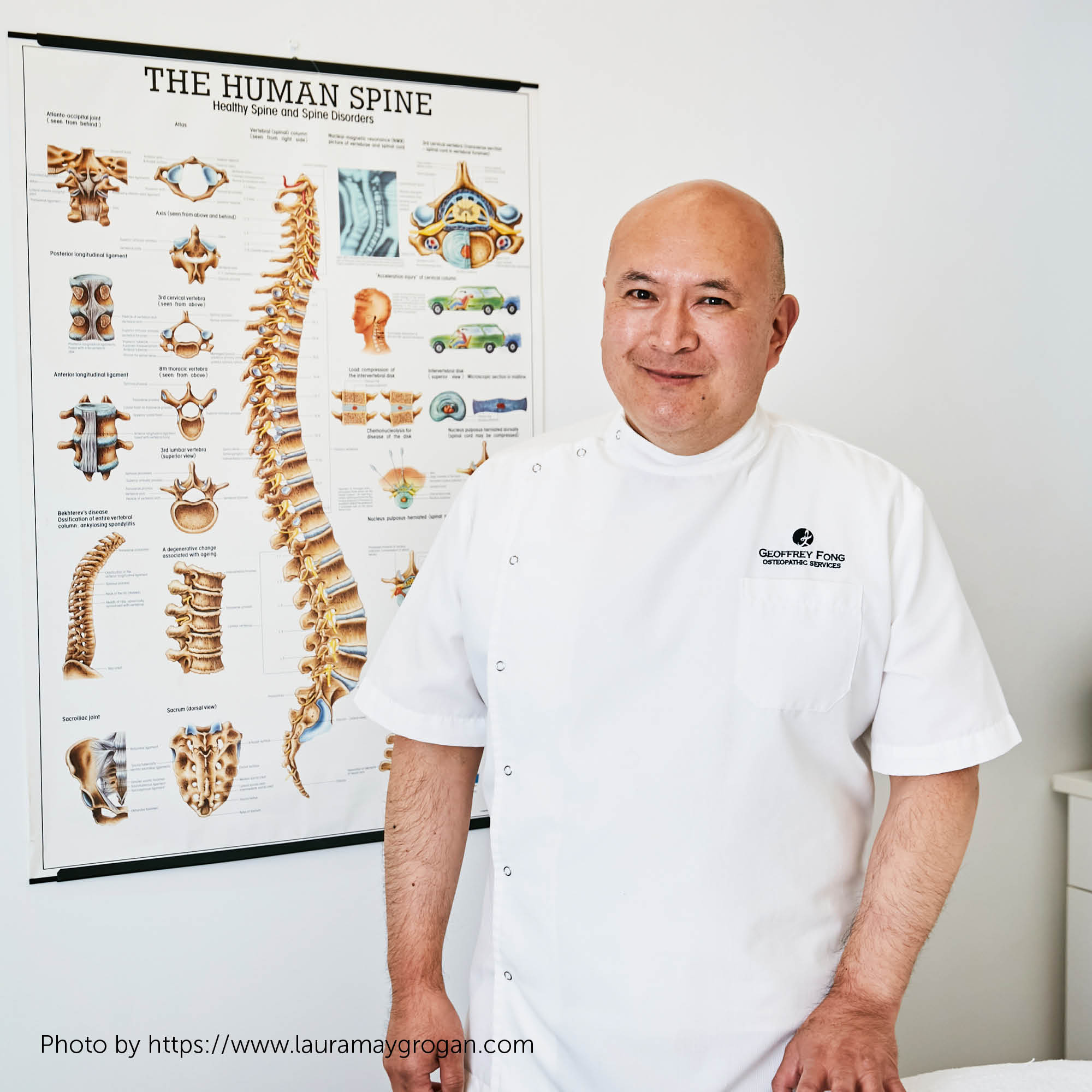 Meet Geoffrey Fong – Osteopath
B. App. Sci. (Osteo). Member OA, SCTFANZ, AHPRA
Geoffrey Fong is an experienced and dedicated osteopath whose personal values line up with the core principles of osteopathy. Geoffrey is a naturally inquisitive and solutions focused practitioner. He takes a holistic view of health and goes out of his way to listen attentively to his client's health concerns. Geoffrey is committed to finding the underlying cause of his client's pain or discomfort and helping them return to a healthy and active lifestyle.
With a curiosity for physics and mechanics, Geoffrey started his career in Engineering. A lecture on ergonomics triggered a heightened interest. It was then he realised it was body mechanics he was most drawn to. This explains Geoffrey's enquiring mind and his 'find it and fix it' approach.
Geoffrey qualified as an osteopath from RMIT in 1992. He has practised in the UK, Hong Kong, and opened the Camberwell clinic in 1993.
With a family background in traditional Chinese medicine, Geoffrey is able to draw from a unique blend of both Eastern and Western practicalities. He takes the understanding that most clients come to see him already in a degree of pain and doesn't believe that additional treatment pain will necessarily lead to more gain.
Geoffrey's special interests and expertise lie in:
Sport injury and recovery
Workplace injury and recovery
Road accident injury and recovery
Pre and post natal musculoskeletal conditions
Whilst many health clinic environments are often time constrained, Geoffrey is committed to practising within an unrushed clinical environment.
This allows his clients to relax and communicate without pressure. It enables Geoffrey to simply listen, be present, and to develop a deeper understanding of his client's pathway to pain. His treatment sessions are thorough with a goal of improving your comfort and a realistic pathway to recovery.
When Geoffrey's wife, Natalie, transitioned from her health care career as a nurse to a remedial massage therapist, he was only too happy to make room in the clinic. Adding a complementary treatment where client health and well-being is at the core simply made sense.
When Geoffrey's not treating clients, you're likely to find him at Bunnings (like many others!) or in the garden with his girls – that is his wife, Natalie and daughter, Bella. In the past, he's enjoyed the benefits of Aikido, a gentle form of martial arts and appreciates what a bit of ballroom dancing can do to improve your posture. Although Geoffrey's motorcycle doesn't get out as often as it once did, we're sure he's secretly planning (or dreaming about) his retirement tour.